Linear equations are expressions that can reduce to the form ax+b=0, with a≠0. Their only solution is x=-(b/a) and the unknown x only appears raised to 1.
Examples linear equations: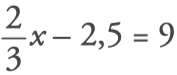 Examples of nonlinear equations:



Equivalent equations
Two equations are equivalent if they have the same solution or both have no solution. Thus, the equations 5x–9=51 and 3x-7=89–5x are equivalent because the solution of both is x=12.
To solve an equation, we have to clear the x using a series of steps. Each step consists of transforming the equation into another equivalent equation, in which the x is closest to being cleared.
How to solve linear equations
Keep in mind the following rules to avoid making mistakes:
Add or subtract the same expression in the two members of the equality. That is, what is adding in one member passes by subtracting the other member, and vice versa.
Multiply or divide the two members by the same non-zero number. In other words, what is multiplying everything else from one member happens dividing the other, and vice versa.
How to solve a linear equation:
Remove denominators, if any.

For this, the two members of the equation are multiplied by a common multiple of the denominators; preferably, their least common multiple:


Remove parentheses, if any.

Pass the x terms to one member and the numbers to the other member:

Simplify each member:

Clear the x and get the solution like this:

Check by substituting the x for the solution obtained.

Since they match, the solution is correct:

The best way to learn to solve linear equations is to practice doing lots of exercises. Start now and test yourself!
Linear equation exercises
1. Find out the value of x:
2. Solve the following equations: